Edgenet
Rebuilding a Brand Narrative with a Product Focussed Website.
Drupal Custom Development

Photography & Illustration

Edgenet provides software-as-a-service, hosting a premium suite of product content and configuration solutions.
In 2014 a restructuring presented an opportunity to readress their company and product branding. The main challenges were:
While the company's product offerings continued to be very robust, each had come to exist on its own island.
There was no clear narrative tying the products to each other or to the company branding.
The site was not responsive and the design was cluttered and outdated.
As the company opened a new chapter, we provided them with a cohesive story of deep history, strong culture, and best-in-class products.
By The Way Labs updated the company style guide and built a new responsive website for Edgenet.com. The result is an updated and contemporary site in-line with Edgenet's best-in-class products.
The BTW Labs team has more than premier design chops, but a keen sense for navigating real business needs and challenges. For us, BTW Labs have been a secret weapon, not only to dust off our competition, but to send them reeling - to the point of trying in vain to emulate us. I consider the BTW Labs team an extension of our company's creativity, and a conduit for our marketing energy and voice.
Edgenet Product Logos and Style Guide
By the Way Labs updated and organized the Edgenet company style guide. Starting with the existing established logo, we choose a complimentary color palette and aligned products to colors. As Edgenet handles much of their marketing in-house, we built an online tool to make it easy to find all brand creative elements.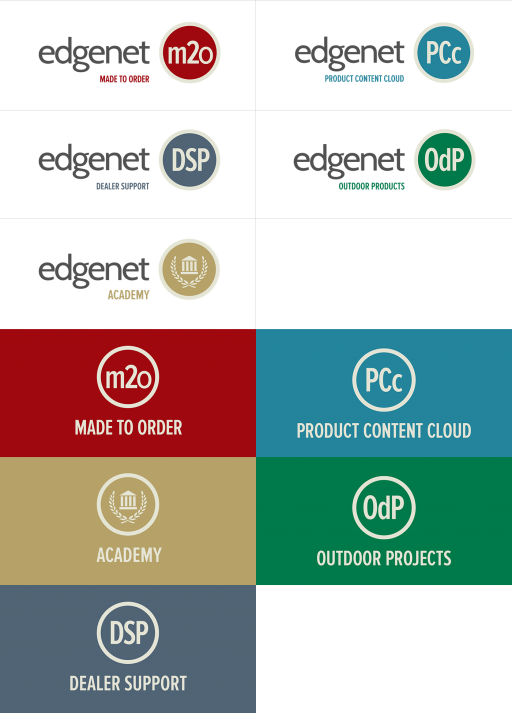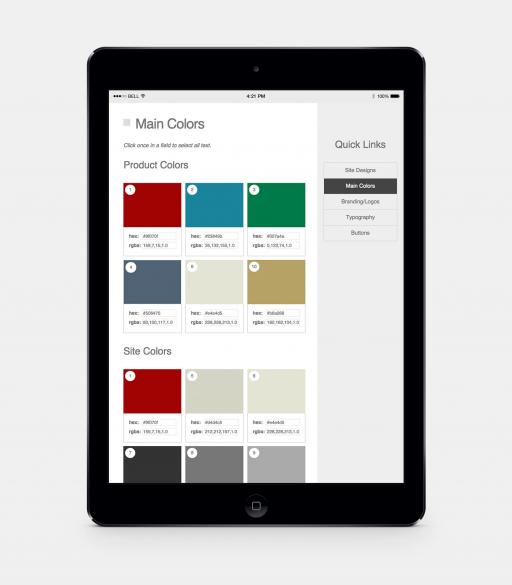 Edgenet.com Website
The responsive website has a contemporary feel which displays beautifully on all devices. A simplified sitemap makes for a good user flow and provides clear conversion goals (Contact Us) on all pages. Clear text and semantic markup helps the site play well with search engines. In six months, the bounce rate was reduced by 13%, sessions had increased by 54%.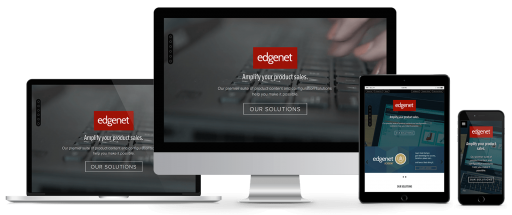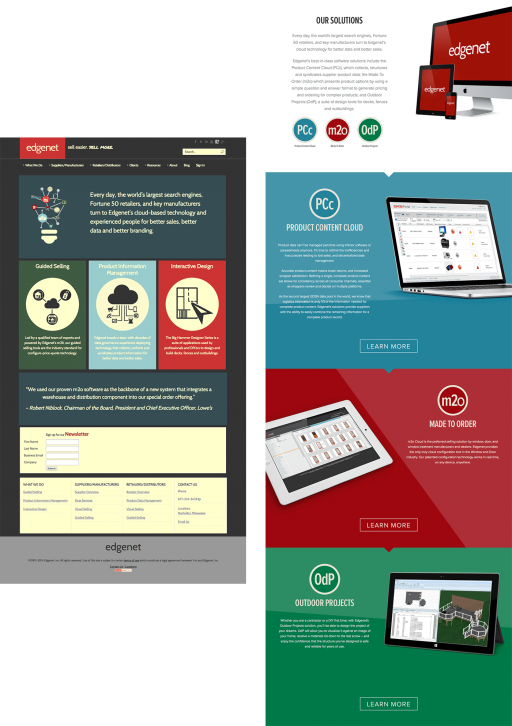 Edgenet Team Cards
Edgenet wished to showcase the people and personalities which make up the company and culture. By The Way Labs coordinated portrait shoots in Nashville and Milwaukee. Team members are represented by professional portraits as well as "personality" shots and quotes. Photography by
Andrea Behrends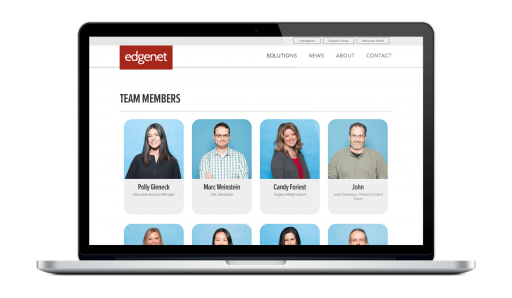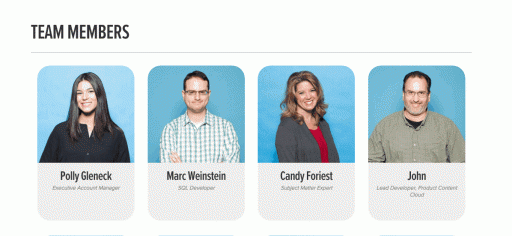 Exposebox Custom Module
Expose Box is a lightweight module that provides a simple js-driven mechanism for wrapping field content in a "show/hide" box. We used on the Edgenet You Are Here campaign to display a large amount of copy on a single page while keeping the campaign flow clean and uncluttered.
Exposebox is available as a contributed module and is maintained by By The Way Labs. https://www.drupal.org/project/exposebox