Firefly Spirits
Merging two product sites into one for a stunning before and after
Drupal Custom Development
By The Way Labs partnered with G7 Entertainment Marketing to upgrade the online presence of Firefly Vodka and Firefly Moonshine. While both spirits originated in the same South Carolina distillery, they were being treated separately with distinct branding and websites. We merged the two sites into one, FireflySpirits.com, crafting a vibrant, contemporary website in line with the relaxed, good-time aesthetic of the brand. Beyond a giant leap forward aesthetically, site performance was also noticeably improved:
+66%

increase in sessions

+488%

increase in unique visits

-29%

reduced bounce rate

500x

increase in organic traffic

+66%

increase in mobile sessions

+60%

increase in pageviews
*Data from 12 months after site launch compared to previous 12 month period
I had the pleasure of working with By The Way Labs on the build of FireflySpirits.com for our client Firefly Sweet Tea Vodka and Moonshine. We worked with Jon Wright, who conducted a full site audit as well as a detailed comparison with competitive brand sites before diving into our proposed new site. He provided recommendations that were deeply thought out and was able to clearly communicate his reasoning in ways that made it easy to understand. I found it very refreshing that By The Way Labs was able to provide big-picture strategy overlaid with detailed technical solutions, beautiful creative and superior project management. The team worked tirelessly to complete the project on time and on budget despite several client-driven changes along the way.
FireflySpirits.com Product Website
Firefly Vodka had fallen behind with their digital branding. The website was not responsive and was difficult to engage with on tablets and mobile devices. An outdated content strategy had left the site with old and irrelevant articles. The site did not have a site map or adhere to SEO best practices in regards to schema and metadata. Product photography was low resolution and inconsistent contributing to a site that felt old and neglected.
We developed a palette and tone that supported the Firefly "vibe," but was competitive and in-a-class with top-name alcohol brands. We developed a content strategy based around the seasons. Each season would feature a different product and seasonally appropriate cocktails. One of the client's challenges was explaining to consumers "how" to best enjoy the product. To address, we made recipes the core of the site showcasing myriad delicious ways to enjoy Firefly Vodka and Moonshine products.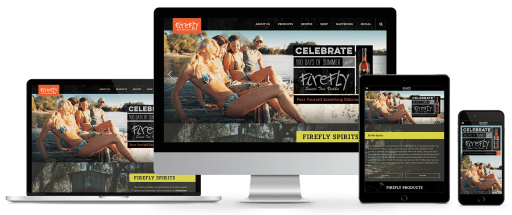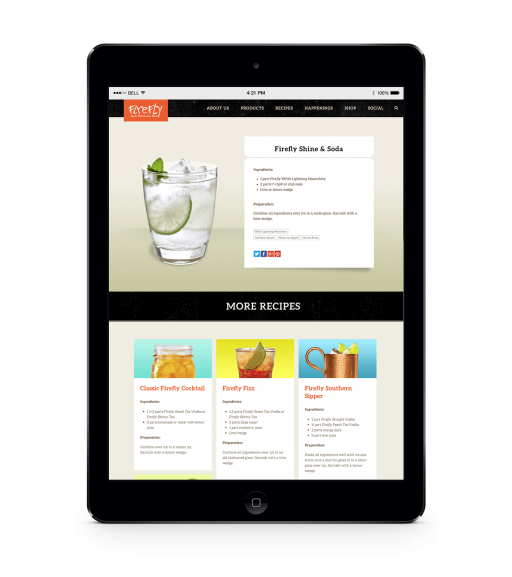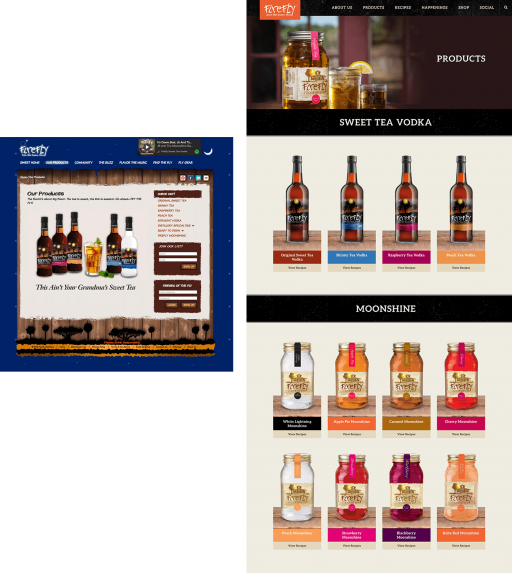 Le Gate Contributed Module
The FireflySpirits.com is a marketing tool for alcoholic beverages. As such the site contents must be hidden behind an age gate restricting access to users under 21 years of age. The client wished for this step to be a simple as possible for the consumer and preferred a "yes/no" approach as opposed to asking for a user date of birth. By The Way Labs developed a custom drupal module, Le Gate
Le Gate is a simple module that restricts user access to pages on a site, and then provides two mechanisms by which users can then gain access, 1) Date or 2) Links. Initial development addressed our specific "age gate" issue, but we decided to make the functionality generic.
Le Gate is available at Drupal.org: https://www.drupal.org/project/le_gate. The module is developed and maintained by By The Way Labs.