Here Come The Mummies
Kickstarting a brand refresh and a successful album launch for "Cryptic."

Here Come The Mummies (HCTM) are a 4000-year-old tribe of odorous, bandaged deviants cursed to tour the earth "banging out solid fly grooves, y'all." Since 2000, The band has developed a dedicated following through a rigorous tour schedule as well as lots of love from syndicated radio personalities Bob & Tom.
In 2013 HCTM prepared to release their 6th studio album, "Cryptic." Determined to to reach beyond their existing fanbase, the boys in bandages sought to update their brand to be in parity with the national touring acts they routinely share the stage with.
We provided creative direction for the album packaging and marketing materials. We helped to develop a release strategy to empower the existing rabid fan base and support all opportunities to sell CD including pre-sales and Kickstarter.
The kickstarter campaign exceeded the goal by 12%. The album was the first HCTM release to chart on Billboard where it landed at #9 on Heatseekers, #28 Overall R&B Albums, and #196 Top Current Albums. Cryptic remains HCTM's strongest album release.
Cryptic Logo and Identity
For Cryptic, HCTM wanted to update their playful, cartoon-ish image to be darker and scarier. To begin with, we designed a new logo to better fit with Steelgohst's Cryptic Cube album art. For the primary band image, we referenced the comic book art of Alex Ross (which itself is strongly influenced by the group paintings of Norman Rockwell.) We built a composite from portrait shots by Shawn Worlow. The final image was used in the album packaging and served as a primary promotional image for the album and the related tour.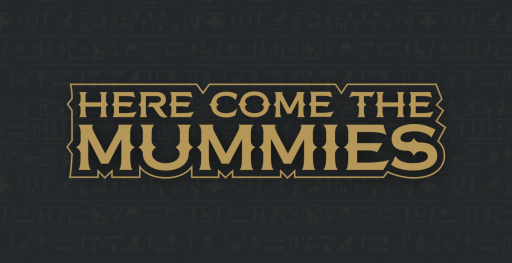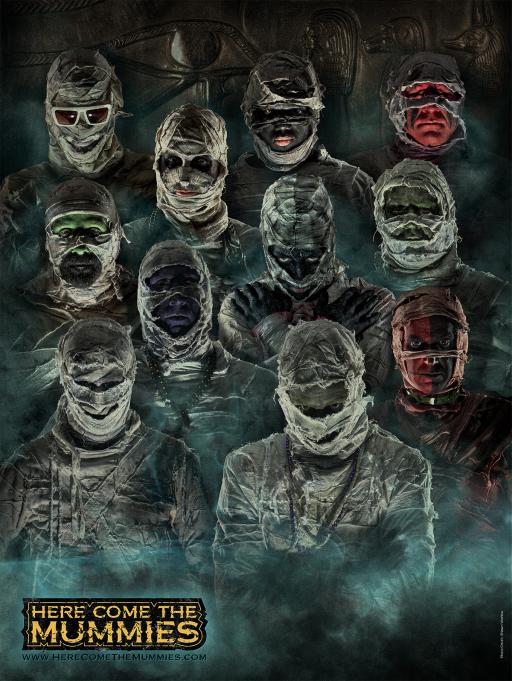 HereComeTheMummies.com Website
We developed the concept with the band. Based upon those meetings, we composited Shawn Worlow's great pictures with various Egyptian source materials to deliver a fun and detailed web theme. The site featured integrated commerce and live show pages where fans could post show photos and comments and the band could sell "official bootlegs."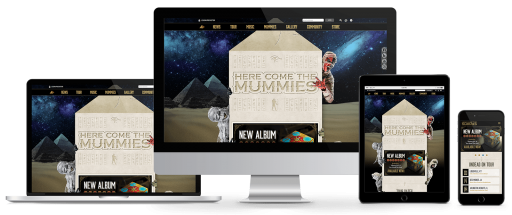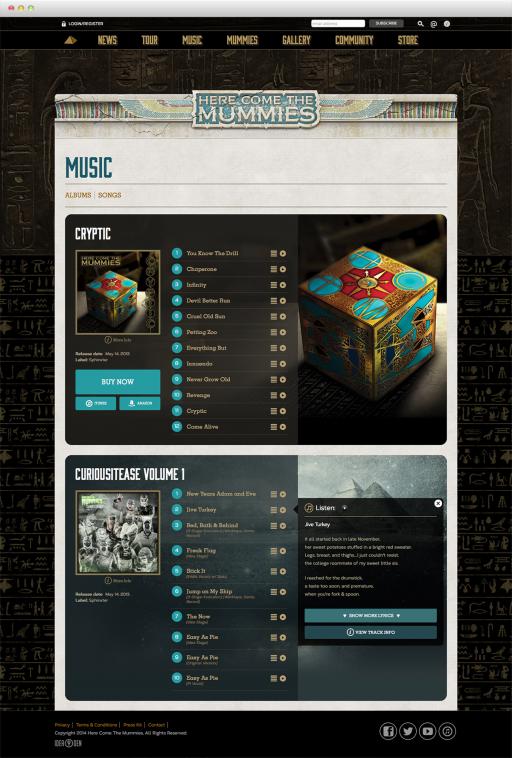 Cryptic Album Packaging
The album packaging was built around Steelgohst's awesome HCTM cryptic cube image. We provided the compositing as well as all logos, typography, and layout.